FitMoS Classes
WHEN: 9am - December 9th, 12th, 16th and 19th, January 6th (more January - February dates TBD)
WHAT: TPI Exercises, light, mobility warm-up with GolfForever, TRX, medicine balls, balance pods, and more. Exercises that improve flexibility, stability and strength for better golf movement. Speed training introduction. Exercises for all levels, ages and abilities!
WHERE: Blackhawk CC, (Oronoque CC) in the **all NEW JLGolf Studio, located on the lower level, across from golf shop.
COST: $40pp (cash, check or cc)
*limited space for 4 participants per class
Need-4-Speed Series
WHEN: 8am - December 9th, 12th, 16th and 19th, January 6th (more January - February dates TBD)
WHAT: Dynamic Warmup routine that leads into the Mach3 based platform of speed training. We will use the Mach3 training tools as well as Speed sticks. It will be encouraged to attend a minimum 1-2 sessions per month (plus at home work) to see your baseline swing speed in the studio and work your way into faster swings by Spring 2024. You can then take what you've learned and easily do the speed drills at home with your Mach3 Training Tools daily!
WHERE: Blackhawk CC, (Oronoque CC) in the **all N.EW JLGolf Studio, located on the lower level, across from golf shop.
COST: $80 per class & Mach3 Tools $230 -OR-
Series of 5 Speed Classes - $350 + $200 (Mach3Tools) = $550

Series of 10 Speed Classes - $600 + $200 (Mach3Tools) = $800
*limited space for 3 participants per class
GolfForever At Home Workout
Not looking for group instruction this winter? I HIGHLY recommend GolfForever training tool and workout app that accompanies it. Justin Leonard and Scottie Scheffler run through many of the exercises with you. You don't need a ton of space or a gym! The exercises are great for gaining mobility and strength, while specifically working on golf movements! Utilize this link to get your Training Tool or enter JORDANLINTZ at checkout for a discounted price.
FitMoS
FitMoS with JLGolf
Fitness. Mobility. Speed.
Come join a class or two and learn the basics of an easy, full body winter training program to help you improve your fitness, gain mobility and clubhead speed for 2024!
Each class is 1-hour in length, easily adaptable to help you at whatever level of fitness &/or mobility you are currently.

The use of TRX, GolfForever and Mach3 equipment will be used as well as TPI (Titleist Performance Institute) exercises.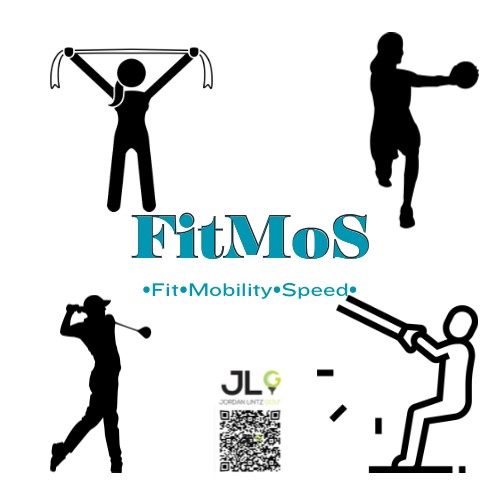 The "FitMoS" 1-hour class at JLGolf Studio will begin with a mobility warmup, balance and strength work in a circuit-style group setting, finishing with an intro to Speed Drills. The class will be a relaxed, fun atmosphere encouraging healthy movements that you can take home and do anytime, all season long. Each person may find a particular set of exercises that they need more than others. The best thing is that you can create your own routine to improve throughout the year! Purchase your own fitness training aides with me (at a discounted price).
•Flexibility( & Mobility (Hip Mobility & Shoulder Turn)
•Strength & Stability (Legs, Glutes, Wrists, Back & Core)
•Balance (Foundation, Setup & Movement)
•Speed Training (Movement Pattern & Power Development
"Need 4 Speed" Series
Speed Training Series @ JLGolf Studio
Speed Training Series of 5 or 10 classes MAX 3 Participants per class- (Saturday's @ 8am December -- March). Sign up for the classes that work with your schedule. Minimum of 2 participants each week to hold class.

Measure starting point (speed mph) in Class #1 so we can measure your improvement!

Each class will be 45min -1hour in length

Introduction to Fundamentals of Speed - 10min

Dynamic warm up - 10min

Baseline Swings - 8iron & Driver 10min (not working on swing mechanics, only measuring base speed)

Mach3 Speed Drills - 20min (2-3 rounds with breaks, circuit style)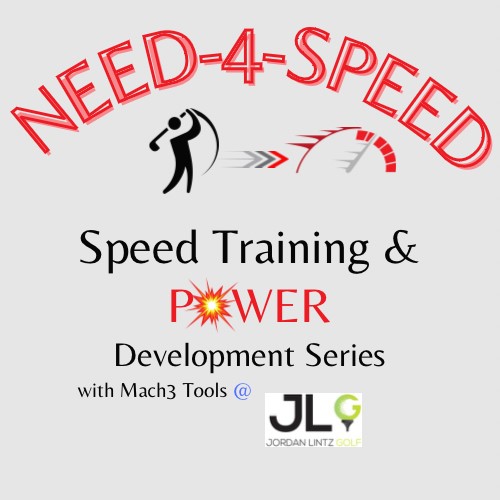 ​​​​​​​
Take home Mach3 Speedbomber and Jetstick training tools to use in between classes. Retail cost $250.

JLGolf Price - $200 *included within your speed training series

Not interested in series of classes? Purchase your own tools for $230.